Panoz Avezzano
Sounds Like Thunder, Goes Like Lightning
Styling For A New Generation
The new Panoz Avezzano styling cues are designed to pay homage to the 28 years of Panoz history. The sleek lines of the fastback roof offer improved aerodynamics and its large hatch opening offers extra storage to set this American grand tourer apart for its contemporaries.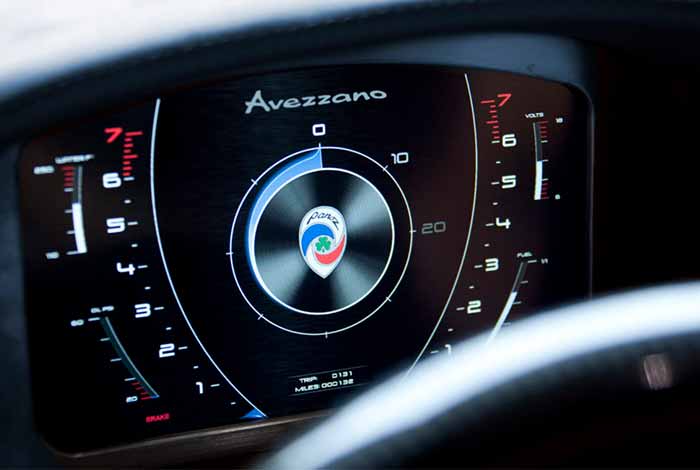 Innovative Construction Born on The Race Track
The extensive use of carbon fiber and patented Panoz aluminum chassis architecture, along with integral roll cage and adjustable suspension are all features that work so well on the race track and can be found in every road going Panoz Avezzano.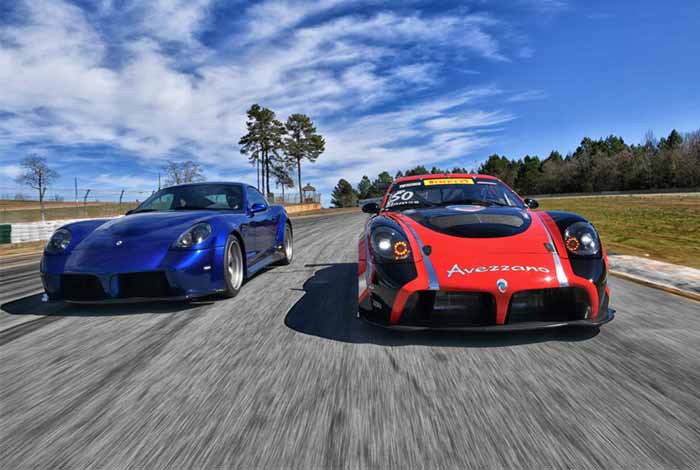 A True Driver's Car
The Avezzano offers that elusive characteristic of a car that is pure fun to drive, it still offers all of the modern conveniences such as an advanced audio system, navigation and rear view camera you have come to expect in a modern vehicle.
But fun to drive and beautiful styling is what the Avezzano is really all about. With a standard 6 speed manual gearbox you are in charge of the fun factor, the way driving was meant to be.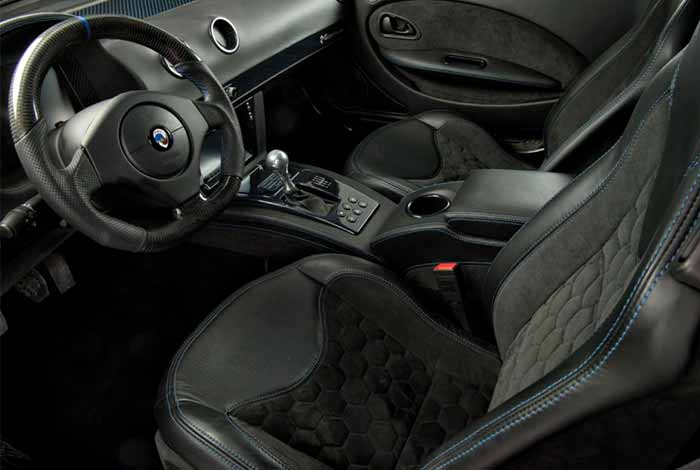 Body
Aerospace SPF aluminum and carbon fiber
Wide-body configuration with GT race car style side exhaust exits. Composite front splitter, side skirts and rear diffuser
Optional clear-coated cosmetic quality carbon fiber front splitter, side skirts and rear diffuser
Chassis
Extruded aluminum chassis, tubular steel sub frames and carbon fiber composite superstructures.
Engine/Gearbox
Standard 6.2-liter, 430-plus hp Panoz/Élan Power Products aluminum block V8
Heavy duty, close ratio 6-speed manual transmission
OR
Upgraded 6.2-liter 580-plus hp Panoz/Élan Power Products supercharged aluminum block V8
Heavy duty, close ratio 6-speed manual transmission
Suspension
Front: Independent upper and lower control arms with double adjustable coil-over springs and shocks
Rear: double-isolated 5-link independent rear suspension with coil springs and adjustable shocks
Dimensions
Length: 181.1 in. (4,600 mm)
Width: 79.25 in. (2,013 mm)
Height: 52.1 in. (1,322 mm)
Wheelbase: 106 in. (2,692 mm)
Track width:
Front – 63.6 in. (1,615 mm)
Rear – 64.7 in. (1,643 mm)
Weight: 3190 lbs. est. (1,450kg)
Steering
Hydraulically assisted rack and pinion steering
Brakes
Front: 14.6 in. dia (370mm) 2-piece floating vented discs with Brembo 6-piston monobloc calipers
Rear: 13.3 in. dia. (338mm) vented discs with Brembo 4-piston calipers
Wheels /Tires
Front: 20 x 10 inch aluminum with 265/35-20 Michelin Pilot Super Sport Tires
Rear: 20 x 11 inch aluminum with 305/30-20 Michelin Pilot Super Sport Tires
Optional custom wheel packages available*
Interior
Leather interior with Alcantara accents
High performance, lightweight, reclining seats
Or ultra-lightweight, carbon fiber race style seats*
Leather Momo steering wheel
Or custom D-shaped carbon fiber steering wheel with leather or Alcantara accents and custom stitching*
Clear coated carbon fiber door sills
Air conditioning, power windows and keyless ignition with push button start
Multimedia infotainment center with navigation and satellite radio
Custom interior trim, stitching, etc available*
Timeless Care
ACCESSORIES: Custom car cover.
* Other options available.
PLEASE NOTE: Specifications subject to change without notice.
Pricing starts at $168,900.00*.
For all pricing inquiries and options please contact John Leverett on (678) 425-1539 / info@panoz.com who would be happy to assist you in designing your dream car!
*Prices subject to change without notice.